There's more to a pool than just water—there's a complex filtration and pump system behind the scenes, working to make sure your pool stays fresh and clean. This system needs proper oversight to stay functional—otherwise, you could run into major problems with your pool.
Don't let pumps and filters become an issue for your pool this season. Be sure to contact Bob's Swimming Pools for experienced pool equipment repair in Anderson, Centerville, Homeland Park, Allen Hills, and Anderson County, SC. We'll deliver all of the essential services you need to keep your filtration system in proper working condition: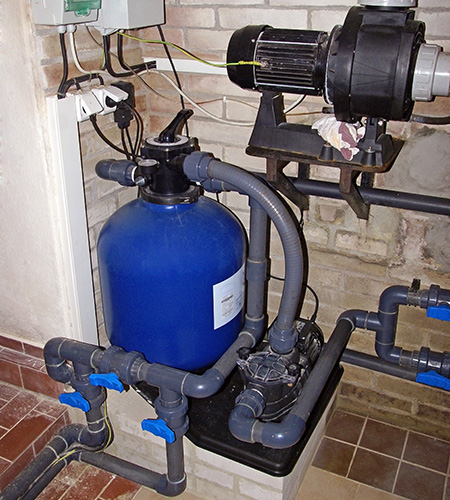 Pool pump installation:
Whether you're setting up a brand-new pool or you're updating your existing one, rely on us for pool pump installation in Anderson, SC. We'll make sure you're getting the right pump and that it's properly integrated with your pool to work with maximum efficiency.
Pool pump repair:
Is your pump no longer working efficiently? Problems with water circulation? Constant breakdowns causing you grief? We're the ones to call for pool pump repair in Anderson, SC. We'll figure out what's holding your pump back and can make repairs that set everything straight
Pool filter replacement:
Filters are key in keeping your pool's water balanced, stable and full of debris. If your current filter is no longer doing that, give us a call for pool filter replacement in Anderson, SC. We'll outfit your pool with a newer, more reliable filter.
Filter repair:
Damage to your pool filter won't go unnoticed! As soon as you spot trouble, contact us for rapid, reliable repairs. Our experts will make sure your filter is given the attention it needs to work appropriately.
Changing sand filters:
Sand filters are highly effective at removing particles of all sizes from your pool, making them a smart investment. Cartridges in these filters need to be changed however, making it part of routine maintenance. Let us make sure your sand filter is living up to expectations!
Using only the best products and delivering tailored care to your specific pool equipment, Bob's Swimming Pools is a premier provider of pump and filter service. Contact us today at (864) 934-9663 when you need quality pool liners, pool safety covers, and services that you can count on.